publishing
CONDÉ NAST
The New Yorker's Cartoon Bank
Ha-Ha Instead of Ho-Hum
We met a three-fold challenge from Condé Nast: to promote the licensing of images in The New Yorker's Cartoon Bank as illustrations; market New Yorker custom products; and sell framed New Yorker prints as wall décor.

Why give an ordinary gift when you can commission a witty custom product illustrated with specially selected New Yorker cartoons? Media kit and sales promotions demonstrate the unique value of licensing the more than 90,000 cartoons and 4,000 covers in The New Yorker's Cartoon Bank as illustrations for everything from newsletters to websites and PowerPoint presentations.
And which illustrators did we choose to work with? New Yorker cartoonists Ed Koren and David Sipress, of course.

The annual catalog is a "curated exhibition" of selected covers and cartoons published since 1925. Cartoon by Ed Koren.
Photographs of domestic scenes by Kate Mathis help people envision framed New Yorker covers and cartoons as art in their homes and offices and drive traffic to cartoonbank.com.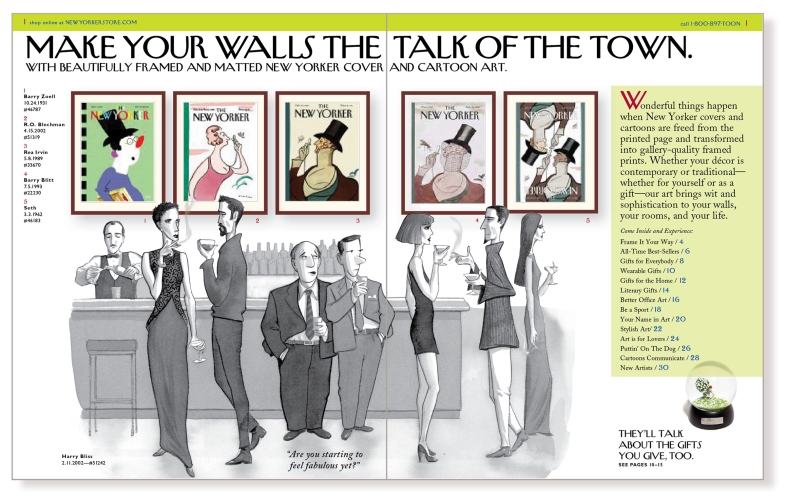 How about in your home (bar, office, weekend house)? Catalog spreads feature themed compositions of covers arranged in "rooms" populated by characters in famous New Yorker cartoons.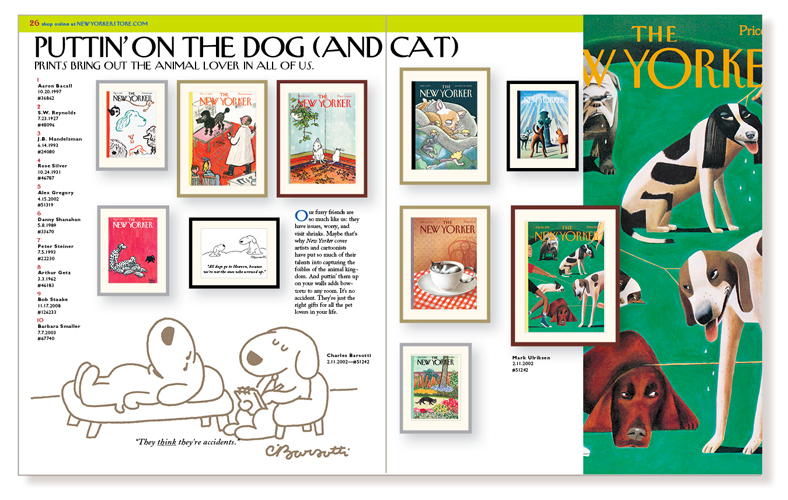 Catalog spreads were written and designed to inspire people to choose framed covers and spreads based on their interests (pets, sports, cooking, romance, fashion) and also by location (kitchen, man-cave, vacation house).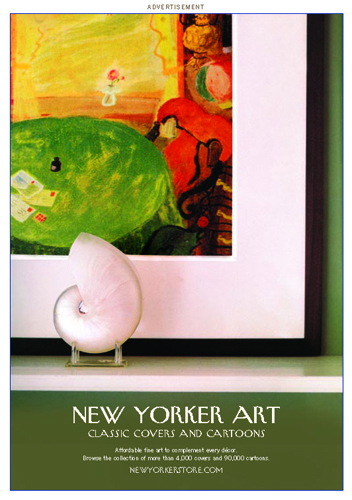 Ads in The New Yorker invite reader to browse the collection online.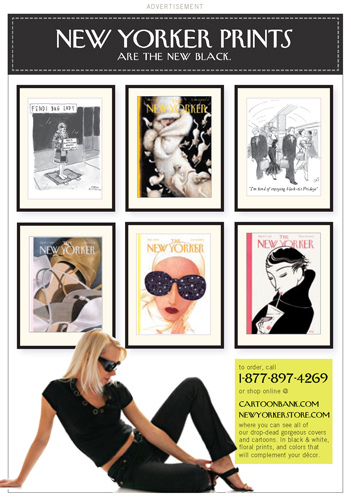 For example, a framed cover or cartoon could be the perfect gift for your favorite fashionista.
Full-page or fractional (we specialize in small-space ads that pull big results).